Upper Midwest Environmental Sciences Center
Maps, Quadrangles, and Figures
Digital Raster Graphics

Scanned and registered images of USGS quadrangles
---
Digital raster graphic (DRG) files are being redistributed through this Web site as a service to program partners of the Upper Midwest Environmental Sciences Center. The 1:24,000-scale DRG files for the Upper Mississippi River floodplain have been modified, their maps collars have been removed and a buffer strip of neighboring quadrangle data added to the images. These modifications were performed to make it easier for users to create mosaic images from several images. If you require these data in their original format, contact the EROS Data Center.

For more information on digital raster graphics including a listing of Web sites that distribute DRG files through the Internet, contact the Mid-continent Mapping Center in Rolla, Missouri.
---
Online DRG files are currently available for the following 1:100,000-scale USGS quadrangle tiles.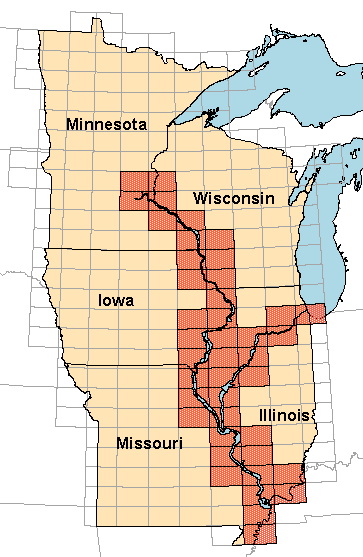 ---
Page Last Modified:
April 3, 2018