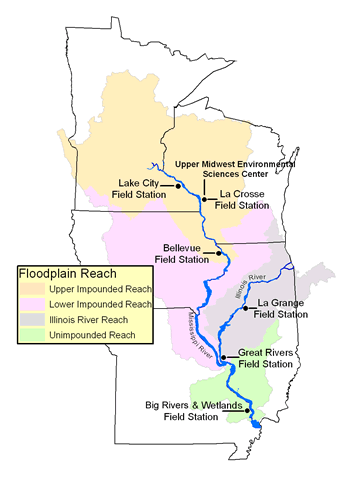 The Upper Mississippi River Restoration Program's Long Term Resource Monitoring (UMRR-LTRM) field station in Bellevue, Iowa is operated by the Iowa Department of Natural Resources (Iowa DNR) as part of the Conservation and Recreation Division's Fisheries Bureau. The field station has been in operation since 1988. The Bellevue Field Station conducts long term monitoring primarily on Pool 13, which is 34 miles long, extending from Lock and Dam 12 at Bellevue, Iowa to Lock and Dam 13 near Clinton, Iowa.
Pool 13 was chosen as an LTRM trend pool because it is at the transition zone between the Upper Impounded and Lower Impounded Reaches of the Upper Mississippi River, and as such shares characteristics of both more northerly and southerly pools that are also monitored by UMRR-LTRM. We also perform focused annual monitoring of local Habitat Rehabilitation and Enhancement Projects (HREPs) as needed.
We have four full-time staff members: Team Leader Dave Bierman, Fisheries Component Specialist Travis Kueter, Aquatic Vegetation Component Specialist Seth Fopma, and Water Quality Component Specialist Ashley Johnson. We also typically employ four to five seasonal workers to help conduct the annual monitoring for each component and perform various equipment maintenance tasks. The Bellevue Field Station is supervised by Randy Schultz, who supervises all of Iowa DNR's Mississippi River Management teams.
The following components are monitored annually:
Water Quality

Physical and chemical water quality parameters are monitored monthly throughout the year at 12 fixed sites on Pools 12, 13, and 14, including five tributaries, five contiguous backwaters, and sites at the inflow and outflow of Pool 13.
Water quality parameters in Pool 13 are also monitored quarterly at 150 random sites stratified by habitat type.

Aquatic Vegetation

Aquatic vegetation samples are taken at 450 randomly assigned points stratified by five major habitat types (backwater contiguous, backwater isolated, impounded, main channel border, and side channel) each year during peak vegetative biomass (between June 15th and August 15th). Annual sampling follows a standardized design which has been developed to provide spatial distribution and abundance assessments of submersed, emergent, rooted floating-leaved, non-rooted floating-leaved, and algae species.

Fisheries

The fish community of Pool 13 is monitored through indices such as relative abundance, species richness, and size structure during three time periods from early summer to late fall at stratified random sites across the entire pool. A multiple-gear approach is used to assess the fish community using day electrofishing, fyke nets, mini-fyke nets, large and small baited hoop nets, and tailwater trawling.
Turtles are also monitored via incidental catch in some of our nets.
Day-to-day activities vary, but prepping for and completing the annual component monitoring in Pool 13 is the number one staff priority and consumes a vast majority of our time. Additionally, staff are involved with a wide range of duties and projects associated with the UMRR Program. These include but are not limited to: data analysis and dissemination, popular and technical writing, professional presentations, program administration and budget development, boat and vehicle maintenance, grounds maintenance, public relations, school group talks, meetings, training, fish kill investigations, contaminant spill investigations, and assistance with other local Iowa DNR activities. Staff are also involved in the development, planning, monitoring, and assessment of local HREPs.