Bathymetry
Methods documentation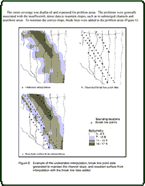 Methodologies employed
this link references a 14-page .pdf (Adobe Portable Document File) that describes in detail the methodologies employed for bathymetric mapping in the UMRS by the Long Term Resource Monitoring Program (LTRMP).
---
Interpolation steps
Bathymetric maps are generated by the interpolation process shown below.
Step 1 is shown by default.
Position the cursor over the text "Step 2" or "Step 3" to change the image.



An example of the types of maps that can be generated from the above process is shown in the Frequently asked questions section of this web site.


Page Last Modified: November 22, 2010