Upper Midwest Environmental Sciences Center

Project Status Reports
PSR 98-09 September 1998
Providing On-line Access to Oblique Aerial Photographs of the Mississippi and Illinois Rivers and their Floodplains
by Mary R. Craig
In 1997, staff at the Environmental Management Technical Center (EMTC), in cooperation with the U.S. Fish and Wildlife Service,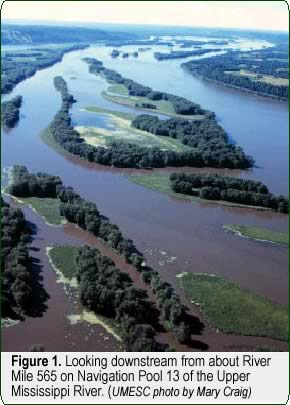 photographed the Mississippi and Illinois Rivers and their floodplains from the air. Approximately 2,000 oblique photographs, in slide format, were acquired for ongoing research to evaluate changes in floodplain structure along the navigable length of the Mississippi River (Minneapolis, Minnesota to the Gulf of Mexico). Nearly 300 photographs were obtained along the Illinois River between Chillicothe, Illinois and the mouth of the River at Grafton, Illinois. These photographs capture aspects of the rivers' landscapes (Figure 1) as well as document river-management activities such as channel maintenance practices (Figure 2) and habitat rehabilitation and enhancement projects (Figure 3).

River managers and scientists have expressed great interest in this collection of oblique aerial photographs. To date, we have received requests for more than 600 duplicate slides from a variety of sources including federal and state agencies, universities, and a private, natural resource group seeking to establish a sanctuary. Staff at the EMTC are in the process of making this valuable collection of photographs of the Mississippi and Illinois Rivers easily accessible to a wide audience.
We have received financial assistance from the National Biological Information Infrastructure initiative of the U.S. Geological Survey's Biological Resources Division to make the photographs broadly available to interested parties through the World Wide Web. To provide on-line access to these photographs, we are preparing to serve high-resolution images of them from our web site (http://www.umesc.usgs.gov). Slides are being electronically scanned and their locations are being geo-referenced. Our web page will be updated and modified in order to serve these oblique aerial photographs along with the color-infrared aerial photographs we now serve. The first oblique aerial photographs to be served will be of the Upper Mississippi River reach that extends from Cairo, Illinois to St. Louis, Missouri. They should be available on our web site by February 1999, and the entire collection of 2,300 oblique aerial photographs should be electronically accessible by November 1999.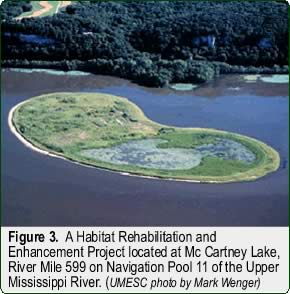 This collection of aerial photographs of the Mississippi and Illinois Rivers will serve as a rich and invaluable resource for river managers and scientists for assessing habitat needs, planning habitat rehabilitation and enhancement projects, developing decision support systems, executing adaptive ecosystem assessments, and planning emergency responses to potentially hazardous and toxic spills. These photographs will be a great "river map" source for the public, and they will continue to be used to further research and support ongoing resource management and planning activities on the Mississippi and Illinois Rivers.
This report is a product of the Long Term Resource Monitoring Program for the Upper Mississippi River System.
For further information, contact
U.S. Geological Survey
Upper Midwest Environmental Sciences Center
575 Lester Avenue
Onalaska, Wisconsin 54650
Phone: 608/783-7550
Fax: 608/783-8058

Project Status Reports (PSRs) are preliminary documents whose purpose is to provide information on scientific activities. Because PSRs are only subject to internal peer review, they may not be cited. Use of trade names does not imply U.S. Government endorsement of commercial products.
All Project Status Reports are accessible through the Upper Midwest Environmental Sciences Center's website at http://www.umesc.usgs.gov/reports_publications/psrs/umesc_psr.html
October 29, 2001
Page Last Modified:
April 3, 2018