Upper Midwest Environmental Sciences Center

Project Status Reports
PSR 96-04 October 1996
Fish Movement on the Upper Mississippi River
by Joseph H. Wlosinski and Scott R. Marecek
The Environmental Management Technical Center is nearing completion of a two-year project to evaluate the effects of locks and dams on fish passage. As part of this project, we collected all available data from previous fish telemetry and mark/ recapture studies of the Upper Mississippi River (UMR). Other data were obtained from the Wisconsin Department of Natural Resources, Minnesota Department of Natural Resources, Commonwealth Edison, Iowa Department of Natural Resources, Illinois Department of Conservation, Illinois Natural History Survey, U.S. Army Corps of Engineers, Upper Mississippi River Science Center, Normandeau Associates Inc., and Clark Thomas Moen.
We found 126 studies that examined fish movement on the UMR. We were able to obtain at least some of the original data from 84 of the studies.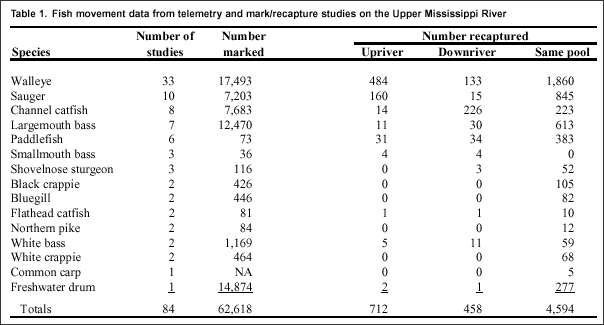 Studies included information for 15 species of fish: black crappie, white crappie, bluegill, northern pike, common carp, channel catfish,
freshwater drum, flathead catfish, largemouth bass, paddlefish, sauger, shovelnose sturgeon, smallmouth bass, walleye, and white bass (Table 1).
Less than 10% of the marked fish were recaptured. No black crappie, white crappie, bluegill, northern pike, or common carp were found to have moved across a single lock and dam. Of the 5,253 fish recaptured in the studies we reviewed, 4,594 (87%) remained in the pool where they were initially marked, 420 (8%) moved upriver and 239 (5%) moved downriver (Fig. 1). Some of the fish crossed more than one dam. The majority of the marked and recaptured fish were walleye. Most of the recaptured walleye and sauger that moved across dams did so in an upriver direction, while most channel catfish moved downriver.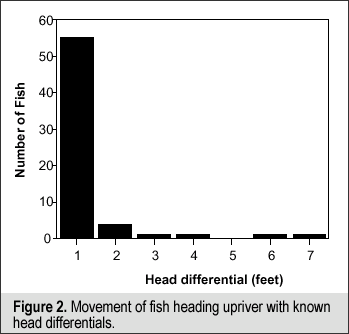 We also investigated the head differential (HD) between headwa ters and tailwaters when fish were at large. Unfortunately, we could not pinpoint the HD for most fish that crossed dams because of the long periods between when they were marked and recaptured. We do know, however, the HD for 68 fish. Of these 68 fish, only five crossed in a downriver direction. Four crossed with a HD of less than a foot. The fifth crossed when the HD was at six feet. Of the fish moving upriver, the majority crossed with a HD of less than one foot (Fig. 2). A HD of around one foot usually signifies that dam gates are out of the water and open river conditions exist.

This study can not supply conclusive proof of the effects of locks and dams on fish passage because the original 84 studies were performed with various experimental designs and most fish were at large for long periods of time. However, the study does support the view that locks and dams do adversely affect fish movement.
This report is a product of the Long Term Resource Monitoring Program for the Upper Mississippi River System.
For further information, contact
Joseph H. Wlosinski
U.S. Geological Survey
Upper Midwest Environmental Sciences Center
575 Lester Avenue
Onalaska, Wisconsin 54650
Phone: 608/783-7550, ext. 56
E-Mail: Joe_Wlosinski@usgs.gov
Project Status Reports (PSRs) are preliminary documents whose purpose is to provide information on scientific activities. Because PSRs are only subject to internal peer review, they may not be cited. Use of trade names does not imply U.S. Government endorsement of commercial products.
All Project Status Reports are accessible through the Upper Midwest Environmental Sciences Center's website at http://www.umesc.usgs.gov/reports_publications/psrs/umesc_psr.html
October 29, 2001
Page Last Modified:
April 3, 2018