Upper Midwest Environmental Sciences Center

Tomorrow's Science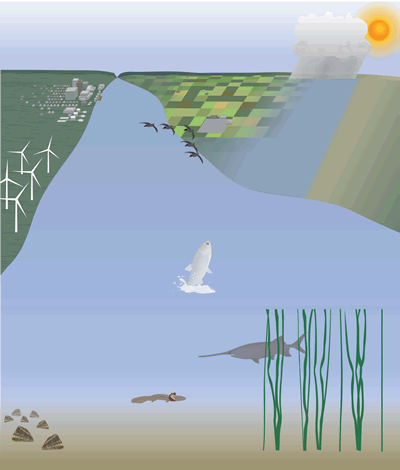 As the impacts of human populations continue to alter Upper Midwest ecosystems, the Upper Midwest Environmental Sciences Center (UMESC) works to improve our understanding of the these changes, and potential future challenges.
---
Climate Change
UMESC science aims to evaluate the current information on climate change in the region, and help identify the most important research needs to support scientifically-based regulations to minimize effects of climate change on forests, aquatic resources, and fish and wildlife populations.
Declining Species
Numerous populations of amphibian, bird, fish, freshwater mussel, mammal, and reptiles are already stressed and declining. As the environments in which they live change, the effects of these changes on declining - and currently stable populations - will need to be studied.
Energy
With the continued use of fossil fuels and the expanded use of renewable energy sources, the effects of current and future energy sources (biofuels, wind energy) on the land, water, and air, will need to be studied.
Floods/Droughts
The UMESC has studied the historical effects of Mississippi River floods and droughts. Additional studies are needed, to see how future events may impact aquatic and terrestrial habitats and animal populations.
Invasive Species
As new invasive species enter the U.S. and expand their range into new habitats, the effects invasives (Asian Carp, VHS fish disease) have on native species and their environments will need to be studied.
Phenology
Changes in recurring natural phenomena such as annual migrations have been observed in recent years, creating concern about the suitability of habitats and the availability of food supplies for migrating species.
Page Last Modified:
April 17, 2018