Upper Midwest Environmental Sciences Center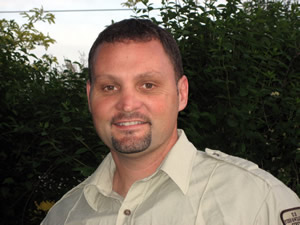 Richard King
Position title: Wildlife Biologist, U.S. Fish and Wildlife Service, National Wildlife Refuge System
Email: richard_king@fws.gov
Phone: 608.781.6207
Fax: 608.783.6066
Education:
M.S., Natural Resources Management, University of Wisconsin-Stevens Point
B.S., Biology, University of Wisconsin-Stevens Pont
Primary Responsibilities/Activities:
My primary career and research interests have centered on ecology and population biology of rare species. I participated on a number of committees, working groups, and/or recovery teams relating to rare and endangered species (e.g., Cerulean Warbler, Golden-winged Warbler, Whooping Crane, Karner Blue Butterfly, and Eastern Massasauga). My work focuses on conservation design and delivery for National Wildlife Refuges and development of standardized monitoring protocols and habitat management and restoration guidelines.
Research Interests:
Conservation Delivery on National Wildlife Refuges
Migratory Bird Management
Prairie and Oak Savanna Restoration Design
Endangered Species Recovery
Floodplain Forest Restoration and Management
Active Projects:
Survey Protocol Establishment and Conservation Design for National Wildlife Refuges
Development of Novel Habitat Management and Restoration Techniques
Incorporating Climate Change into Prairie and Savanna Restoration Design
Modeling Cerulean Warbler Site Selection on the Upper Mississippi River
Linking Flood Inundation and Floodplain Forest Quality and Recruitment
Select Publications:
King, R. S., Boysen, J. R., Brenneman, J. M., Cong, R. M., & Hunter, T. S. 2015. Fire created habitat partitioning and isolation between hybridizing warblers. Ecosphere 6:1-10.

King, R. S., McKann, P. C., Gray, B. R., & Putnam, M. S. 2015. Host-parasite behavioral Interactions in a recently introduced, whooping crane population. Journal of Fish and Wildlife Management 6:220-226.

King, R. S., Trutwin, J. J., Hunter, T. S., & Varner, D. M. 2013. Effects of environmental stressors on nest success of introduced birds. Journal of Wildlife Management 77:842-854.

King, R. S., Espenshade, J. L., Kirkpatrick-Wahl, S., Lapinski, M. K., Malekan, I. S., & Rickett, J. M. 2013. Whooping crane (Grus americana) nest attentiveness, desertion and management intervention. Waterbirds 36:353-357.

King, R. S., Espenshade, J. L., Kirkpatrick-Wahl, S. K., Lapinski, M. K., Malekan, I., & Ricket, J. M. 2013. Whooping crane Grus americana chick mortality and management intervention. Wildlife Biology 19:420-428.

King, R. S., & Adler, P. H. 2012. Development and evaluation of methods to measure black flies at nests of the endangered whooping crane (Grus americana). Journal of Vector Ecology 37:298-306.

Durbian, F. E., King, R. S., Crabill, T., Lambert‐Dohherty, H., & Seigel, R. A. 2008. Massasauga home range patterns in the Midwest. Journal of Wildlife Management 72:754-759.

King, R. S., Brashear, K. E., & Reiman, M. 2007. Red‐headed woodpecker nest‐habitat thresholds in restored savannas. Journal of Wildlife Management 71:30-35.

King, R., Berg, C., & Hay, B. 2004. A repatriation study of the eastern massasauga (Sistrurus catenatus catenatus) in Wisconsin. Herpetologica 60:429-437.

King, R. S. 2003. Habitat Management: Habitat Management for the Karner Blue Butterfly (Lycaeides melissa samuelis) Evaluating the Short-Term Consequences. Ecological Restoration 21:101-106.

King, R. 2000. Effects of single burn events on degraded oak savanna. Ecological Restoration 18:228-233.
Return to Staff Directory