Upper Midwest Environmental Sciences Center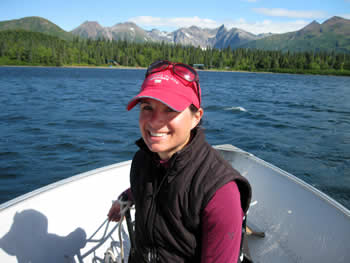 KathiJo Jankowski
Position title: Research Ecologist
Email: kjankowski@usgs.gov
Phone: 608.781.6242
Fax: 608.783.6066
Education:
2014, PhD, Aquatic and Fishery Sciences, University of Washington. Dissertation: Watershed controls on biogeochemical processes in aquatic ecosystems
2007, MS, Biology, Loyola University Chicago. Thesis: The effects of invasive cattail Typha x glauca on nitrogen cycling in a Great Lakes coastal marsh.
2003, BS, Environmental Science & Anthropology, University of Notre Dame
Primary Responsibilities/Activities:
KathiJo is a Research Ecologist and the Principal Investigator for the Water Quality Component of the Long Term Resource Monitoring (LTRM) element on the Upper Mississippi River System. KathiJo oversees the collection, quality assurance, analysis, and synthesis of water quality data on the Upper Mississippi in cooperation with 4 federal agencies and 5 Midwestern state natural resource agencies.
In addition, KathiJo is broadly interested in understanding the influence of climate and land use change on the function of the Upper Mississippi and other large river ecosystems. She has diverse research experience in aquatic ecosystems from boreal to tropical regions, and is primarily focused on doing research that facilitates better management and conservation of freshwater habitat and water quality.
Research Interests:
Watershed connectivity, aquatic-terrestrial linkages
Climate and land use change impacts on large river ecosystems
Aquatic biogeochemistry
Active Projects:
Water quality component lead for the Long Term Resource Monitoring element.
The Sustainability of Riparian Forests in Expanding Amazonian Agricultural Landscapes
Select Publications:
Schindler, D.E., K.J. Jankowski, Z.T. A'Mar, E. Davis, and G.W. Holtgrieve. Two-stage ecosystem metabolism in aquatic ecosystems. Submitted to Ecosphere.
Riskin, S.H., C. Neill, K. J. Jankowski, A.V. Krusche, R. McHorney, H. Elsenbeer, M. Macedo, D. Nunes, and S. Porder. 2016. Solute and sediment export from Amazon forest and soybean headwater streams. Ecological Applications. In press.
Holtgrieve, G.W., D.E. Schindler, and K.J. Jankowski. Comment on Demars et al. 2015, "Stream metabolism and the open diel oxygen method: principles, practice, and perspectives". 2015. Limnology and Oceanography: Methods. doi:10.1002/lom3.10075
Jankowski, K.J., D.E. Schindler, and P.J. Lisi. 2014. Temperature sensitivity of community respiration rates in streams is associated with watershed geomorphic features. Ecology 95(10): 2707-2714. http://dx.doi.org/10.1890/14-0608.1
Lishawa, S.C., K.J. Jankowski, P. Geddes, D. Larkin, A.M. Monks, and N.C. Tuchman. 2014. Denitrification in a Laurentian Great Lakes coastal wetland invaded by hybrid cattail (Typha × glauca). Aquatic Science. DOI 10.1007/s00027-014-0348-5.
Jankowski, K.J., Daniel E. Schindler and Claire Horner-Devine. 2014. The effect of ecosystem productivity and spatial resource heterogeneity on the richness and composition of bacterial communities in lakes. PLOS ONE9 (1): e86991. doi:10.1371/journal.pone.0086991
Schindler, D.E., J.B. Armstrong, K.T. Bentley, K. J. Jankowski, P.J. Lisi, and L.X. Payne. 2013. Riding the crimson tide: mobile terrestrial consumers track phenological variation in spawning of an anadromous fish. Biology Letters 9 (3): Article Number 20130048
Jankowski, K.J., D.E. Schindler and G.W. Holtgrieve. 2012. Assessing non- point nitrogen loading and nitrogen fixation with d15N and nutrient stoichiometry in lakes. Limnology and Oceanography 57 (3): 671-683.
Tuchman, N.C., P. Geddes, D. Larkin, R. Wildova, K.J. Jankowski and D.E. Goldberg. 2009. Patterns of environmental change associated with Typha x glauca invasion in a Great Lakes coastal wetland. Wetlands 29 (3): 964-975
Angeloni, N.L., K.J. Jankowski, N.C. Tuchman, J.J. Kelly. 2006. Effects of invasive cattail species on sediment nitrogen and microbial community composition in a freshwater wetland. FEMS Microbiology Letters 263 (1): 86-92.
Return to Staff Directory