The staff of the Upper Mississippi River National Wildlife and Fish Refuge protects and manages more than 241,000 acres of wildlife habitat along 261 miles of the Upper Mississippi River from Wabasha, Minnesota to Clinton, Iowa. Among the many important responsibilities of the Refuge staff is the need to provide areas where migrating waterfowl can rest and feed while simultaneously providing areas where the American public can participate in wildlife dependent recreation such as hunting and fishing. This is accomplished through the designation and enforcement of a series of Closed Areas throughout the Refuge where hunting is prohibited and non-hunting activities are discouraged. These Closed Areas represent less than 20% of the Refuge but their importance to waterfowl is great, as evidenced by the high concentrations of birds that can be found in them during the fall migration.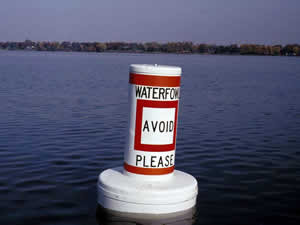 The Lake Onalaska Closed Area, in Pool 7 near La Crosse, is an important feeding and resting place for canvasbacks, tundra swans and numerous other species of waterfowl. A Voluntary Waterfowl Avoidance Area (VWAA), a 3,356-acre area located within the Lake Onalaska Closed Area, was established in 1986 to reduce boating disturbance to migratory waterfowl. Research conducted by scientists at the UMESC since the 1990s determined that boating activity within the Lake Onalaska VWAA did not exceed a threshold that warranted further restrictions, other than the closure to hunting, on public use of the area (Kenow et al. 2003). Since that time boating activity during the fall waterfowl migration has seemingly increased on Lake Onalaska and it is important for the Refuge to know if current levels of boating disturbance is in excess of what resting and feeding waterfowl can tolerate. To answer this question, the Refuge has again sought the assistance of scientists at the UMESC.
In 2010 and 2011, UMESC staff conducted extensive monitoring of the waterfowl use and boating activity in the Lake Onalaska VWAA. During each monitoring period, the point of entry and exit into and out of the Closed area by each boat was recorded, as well as the number of waterfowl that were disturbed into flight by each boat. When a single disturbance caused more than 1,000 waterfowl to be displaced it was recorded as a "major" disturbance. A season-long average equal to or greater than one major disturbance per day is the threshold that may trigger further restrictions on boating activity in the Lake Onalaska Closed Area. The forthcoming analysis of data generated by this research will allow the Refuge to know if this threshold has been reached and will help the Refuge Managers decide if current regulations are sufficient or if additional measures to protect migratory waterfowl are warranted.
Kenow, Korschgen, Nissen, Elfessi, and Steinbach. 2003. A voluntary program to curtail boat disturbance to waterfowl during migration. Waterbirds 26(1):77–87.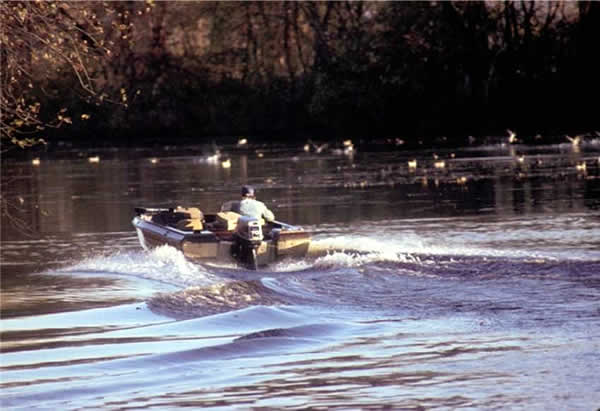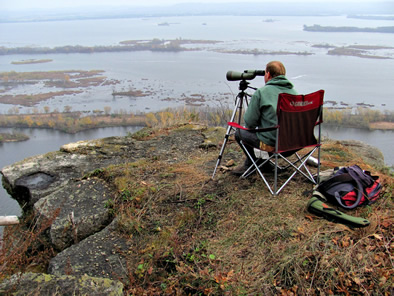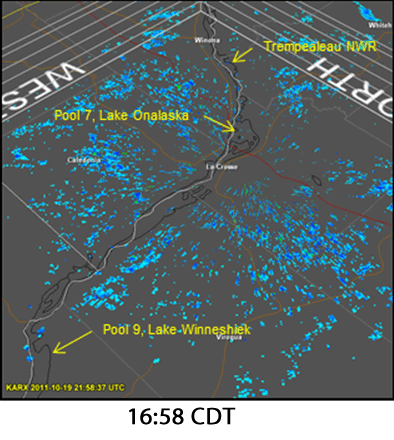 Weather surveillance radar (Nexrad) captures this series of images at 10-minute intervals of waterfowl taking flight in response to a boating disturbance within the Lake Onalaska Voluntary Waterfowl Avoidance Area on 19 October 2011. Boaters entered and disturbed an estimated 10,000 waterbirds beginning at 17:02 CDT. Flying waterfowl are differentiated from clutter and circled in red. The overall pattern indicates that birds likely moved from Lake Onalaska south to Winneshiek Lake, Pool 9, or northwest to Trempealeau National Wildlife Refuge, Pool 6.