Endangered Mussels Further Threatened by Rising Water Temperatures in the Upper Mississippi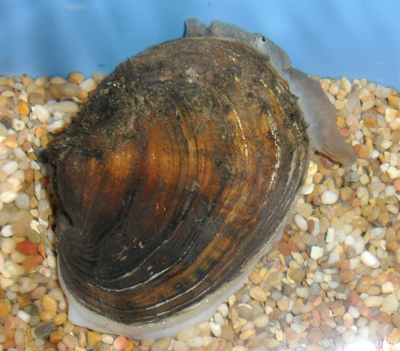 The freshwater mussels that provide pearls for jewelry and nutrients to aquatic ecosystems may be further threatened by rising water temperatures in the Upper Mississippi River.
Nearly 70 percent of the 300 species of freshwater mussels in North America are in jeopardy of extinction, a situation that may increase in the future as a result of climate change and other stresses on aquatic ecosystems. New research suggests that high water temperatures may cause mortality of pregnant females in the Upper Mississippi River, according to the U.S. Geological Survey and the University of Wisconsin–La Crosse (UWL).
"Climate change is another threat to these already endangered animals, and recent research has shown that some freshwater mussels are already living close to their thermal limits," said USGS scientist Teresa Newton. "This research will help predict how changes in water temperatures related to climate change may impact survival, growth and reproduction of freshwater mussels, which could then inform decisions by ecosystem managers."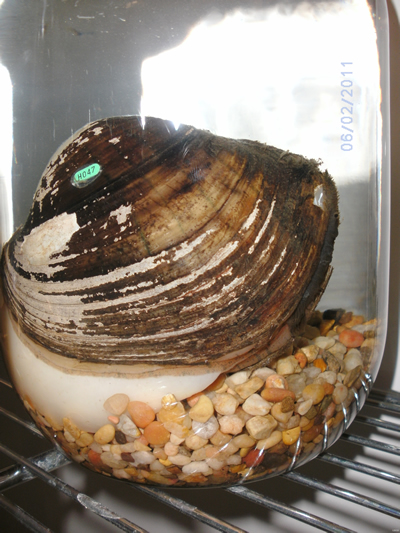 Current research by UWL graduate student Alissa Ganser involves the pocketbook mussel (Lampsilis cardium), a common species in the Upper Mississippi River. In the laboratory, Ganser examines the effects of elevated water temperatures, which are representative of rivers in the near future, on pregnant female mussels.
"This test is intended to estimate the temperature at which reproductive traits are altered in native mussels," said Newton. "If elevated temperatures cause early release of mussel larvae or alter reproductive display behavior, it is possible that reduced reproductive success could impair future generations of mussels."
In Ganser's recent study, high temperatures—30° and 35° Celsius– resulted in mortality of pregnant female mussels. About 80% of mussels died at these temperatures, as compared to no mussel deaths at the lower temperatures of 20° and 25° Celsius.
Freshwater pearly mussels produce the mother-of-pearl buttons, shells, and pearls that humans enjoy. They also provide valuable services for the underwater ecosystem. These mussels feed by filtering water. As they eat, they clean pollution from streams and produce nutrients that benefit their fish, aquatic insect, and plant neighbors. In this way, large mussel beds in streams and rivers can provide the equivalent of modern-day wastewater treatment plants, free-of-cost.
Additional studies are planned to examine the effects of elevated water temperatures on survival, growth, and physiological processes in juvenile mussels and on physiological changes, such as oxygen consumption, nitrogen release, and heat shock proteins, in adult mussels.
Click here for further information on native mussel research being conducted at the USGS Upper Midwest Environmental Sciences Center.
Photos for this release:
Visit: http://gallery.usgs.gov/tags/Mussels for all available photos.
USGS provides science for a changing world. Visit USGS.gov, and follow us on Twitter @USGS and our other social media channels.
Subscribe to our news releases via e-mail, RSS or Twitter.

Links and contacts within this release are valid at the time of publication.