Upper Midwest Environmental Sciences Center
Density and Size Distribution of Zebra Mussels in the Upper Mississippi River, Pool 8, and Effects of Predation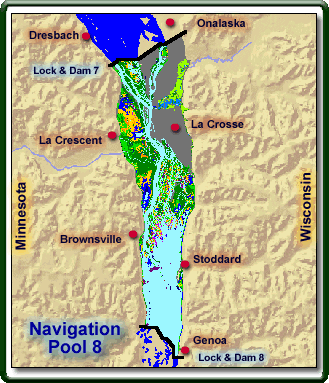 The invasion of the exotic zebra mussel into the Upper Mississippi River (UMR) was documented in 1991 with the discovery of a zebra mussel in Pool 8 near La Crosse, Wisconsin.
Zebra mussels have expanded their range throughout the UMR because of their high reproductive rate, the free-swimming veliger stage, and ease of inadvertent transport by human activities.
This study was designed to identify changes in population density of zebra mussels in Pool 8 of the UMR. Yearly counts (1992 to 1996) of zebra mussels were obtained from concrete blocks and indicated that mussel densities increased from ~1/m2 in 1992 to almost 15,000/m2 in 1996.
During 1997 and 1998, we developed a caging study to assess the effects of predation on zebra mussel colonization.
A difference in the quantities of mussels attached to blocks protected by wire cages versus blocks with no protection from potential predators would suggest that fish were likely predators.
We found that both mussel biomass and density were greater on caged blocks. We also found that at least five fish species (redhorse suckers, common carp, bluegill, quillback carpsucker, and flathead catfish) consumed zebra mussels, with redhorse suckers (59%) and common carp (35%) having the highest frequency of predation.
Our results suggest that fish predation may have an effect on zebra mussel population density in Pool 8 of the UMR. This data could be used in model development to determine the biological effects of zebra mussels on native riverine biota.
This project was jointly funded by the U.S. Army Corps of Engineers and the U.S. Geological Survey.
The project was completed in September 2001.
Principal Investigator: Michelle Bartsch