Upper Midwest Environmental Sciences Center
Effects of Small-scale Drawdowns on the Upper Mississippi River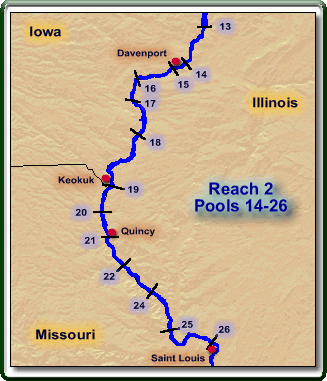 Summer water levels on the Upper Mississippi River have been held approximately 1 to 2 ft lower on Pools 24, 25, and the Melvin Price Pool since 1994, improving over 1,500 acres of habitat by allowing growth of a half-dozen plant species used by fish, waterfowl, and furbearers.
On the basis of this success, the St. Paul District of the U.S. Army Corps of Engineers and cooperating agencies are planning for possible poolwide drawdowns on Pools 3 through 10. Because of increased dredging and other costs, however, the agencies are proceeding cautiously in planning these poolwide drawdowns.
To gain insights into the costs and benefits of drawdowns, two small-scale drawdown projects (less than 100 acres each) were made on the Upper Mississippi River.
That work, part of the Habitat Rehabilitation and Enhancement Project, included 1 year of pre- and 1 year of post-project monitoring at the two drawdown sites, as well as control sites, for vegetation, water quality, and sediment characteristics. This information was collected by the Upper Midwest Environmental Sciences Center and was analyzed for differences between pre- and post- project periods.
The project was completed in September 1999.