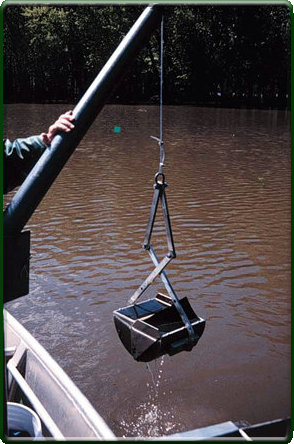 Researchers have traditionally used macroinvertebrates as biological indicators of river water quality. An indicator species is defined as a species that has particular requirements with regard to a known set of physical or chemical parameters.
Macroinvertebrates also perform an important ecological function by digesting organic material and recycling nutrients, making them available to plants and animals. Long-term monitoring is intended to provide a better understanding of the conditions needed to support viable macroinvertebrate populations at levels adequate to sustain native fish and waterfowl. This work is an essential ingredient to maintaining a healthy and functional river system.
Benthic samples are collected with a winch-mounted standard Ponar grab sampler. All mayflies, fingernail clams, midges, Asiatic clams, and zebra mussels collected in a Ponar sample are counted in the field. The presence or absence of data are also collected for a variety of other freshwater macroinvertebrates.