Upper Midwest Environmental Sciences Center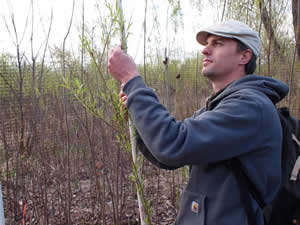 Nathan R. De Jager
Position Title: Ecologist
Email: ndejager@usgs.gov
Phone: 608.781.6232
Fax: 608.783.6066
Education:
2008 Ph.D., Ecology, Evolution and Behavior, University of Minnesota
2005 M.S. Biology, University of Minnesota
Research Interests:

Active Projects:
Select Publications:
De Jager, N.R. and Fox, T.J. 2013. Curve Fit: A pixel-level raster regression tool for mapping landscape patterns. Methods in Ecology and Evolution 4: 789-792.
De Jager, N.R., Cogger, B.J., and Thomsen, M.T. 2013. Interactive effects of flooding and deer browsing on floodplain forest recruitment. Forest Ecology and Management 303:11-19.
Pastor, J. and De Jager, N.R. 2013. Simulated responses of moose populations to browsing-induced changes in plant architecture and forage production. Oikos 122:575-582.
De Jager, N.R. and Houser, J.N. 2012. Variation in water mediated connectivity influences patch distributions of total nitrogen (TN), total phosphorous (TP) and TN:TP ratios in the Upper Mississippi River, USA. Freshwater Science 31: 1254-1272.
De Jager, N.R. 2012. The allometry of community level stem size-density distributions in a floodplain forest. American Journal of Botany 99: 1572-1576.
De Jager, N.R. Thomsen, M.T., Yin, Y. 2012. Threshold effects of flood duration on the vegetation and soils of the Upper Mississippi River floodplain, USA. Forest Ecology and Management 270:135-146.
De Jager, N.R., Pastor, J., Hodgson, A.L. 2009.Scaling the effects of moose browsing on forage distribution from plant canopies to landscapes. Ecological Monographs, 79: 281-297.
De Jager, N.R. and Pastor, J. 2009.Declines in moose population density at Isle Royale National Park, MI, USA and accompanied changes in landscape patterns. Landscape Ecology 24: 1389-1403

Links:
Long Term Resource Monitoring Program
Return to Staff Directory